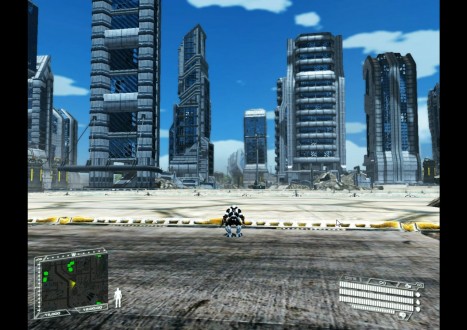 So yesterday we promised to post the results of the MK1 High Altitude Insertion Suit tests. Despite our best safety protocols, sadly a few test subjects didn't make it.
Cmdr Charles Ridge is the last test candidate before the suit goes into production. Luckily, during the final test, he surprisingly survived.
The HAIS is worn like a backpack. When activated, it opens up and a jet powered suit of armor covers the soldier. Using this suit, the soldier can immediately jump from one location to another on the planet. The HAIS MK2 has more advanced features, including the ability to fly from a space-borne station or craft, to the planet below.
After planetary lift-off, the suit propels the soldier in a parabolic high altitude curve then switches to a landing profile. During the landing profile the soldier has minimal flight controls for landing guidance.
There are many problems associated with suit. For one thing, you can't pee when wearing it. We haven't yet found a solution to this problem. The other problem is that, like a parachute, the HAIS has a minimum altitude stage during which if you don't switch to a landing profile, you will make a nice splat on the terrain below. And you can't hold or use weapons when in this suit. So you probably want to refrain from flying around an active combat area where soldiers are running around with high-explosive guided rocket launchers.
You can find the test videos on our YouTube channel below.