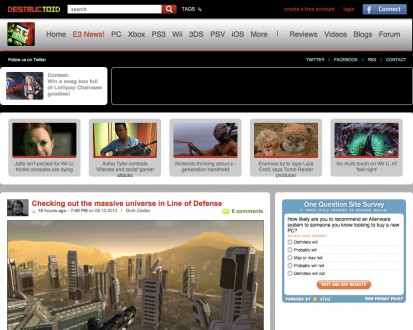 Destructoid checks out LOD at E3 2012
Last week during E3, I met up with 3000AD's president and lead developer, Derek Smart, where he showed me a significant amount of his team's upcoming free-to-play shooter Line of Defense. In all honesty, I was not familiar with title, so Derek had to catch me up on quite a bit in our short time together.
In total, he showed me four colossal landscapes, two of the huge space stations, the inside of one of the main space ships, and every other facet of the game you could imagine. Read on to see what I mean.
On any one server, 256 people can play in one scene at the same time. Split into two teams, the players' ultimate goal is to take up each of the key points on the map.
Once a team has done that, their goal is of course to defend against the other team from taking everything back. This is where things in Line of Defense get truly interesting.
Continue Reading at Destructoid