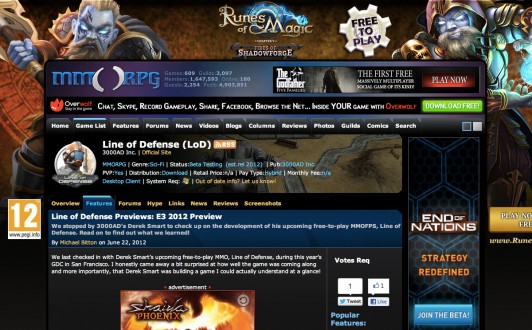 MMORPG checks out LOD at E3 2012
We last checked in with Derek Smart's upcoming free-to-play MMO, Line of Defense, during this year's GDC in San Francisco. I honestly came away a bit surprised at how well the game was coming along and more importantly, that Derek Smart was building a game I could actually understand at a glance!
Just a short couple of months later, we had a chance to check out the game once again during this year's E3. Since I had already seen the game before, Derek spared me the spiel and we instead focused mainly on the bits that had changed since I last saw the game.
Before we get to that, though, let's recap what Line of Defense actually is. Line of Defense is an MMOFPS (or TPS, if you like) featuring vast maps (for up to 256 players) dotted with controllable (and destructible!) territory. Vehicles are available as well, including air vehicles, and players can even jump into space and participate in space battles. While the game is certainly more accessible than most games Derek Smart tends to work on, it's still a bit hardcore in some ways. Players will have to select their armaments carefully, for example, as carrying a portable anti-air may limit you from putting on a jetpack. Derek also isn't bothering to herd players into the action. You're probably going to get lost for a little bit while starting out in Line of Defense, and you may even get blown up a couple of times before you get acclimated and find out where the main fight is taking place.
Continue Reading at MMORPG