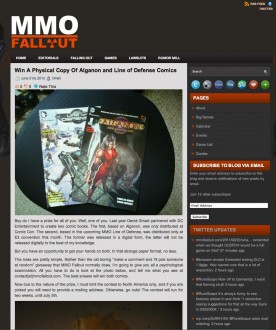 Win A Physical Copy Of Alganon and Line of Defense Comics
Boy do I have a prize for all of you. Well, one of you. Last year Derek Smart partnered with DC Entertainment to create two comic books. The first, based on Alganon, was only distributed at Comic Con. The second, based in the upcoming MMO Line of Defense, was distributed only at E3 convention this month. The former was released in a digital form, the latter will not be released digitally to the best of my knowledge.
But you have an opportunity to get your hands on both. In that strange paper format, no less.
Continue Reading at MMO Fallout